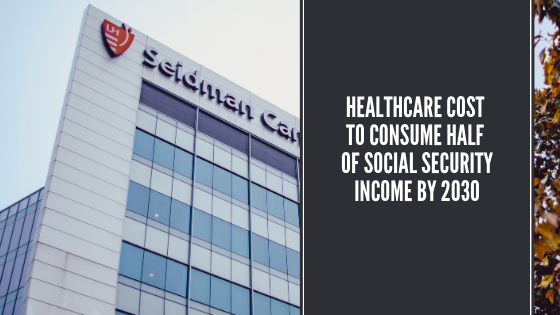 ​In 11 years, health care costs are projected to consume at least half of the average senior citizen's Social Security income, even with basic Medicare coverage.

Also by 2030, some 42% of all seniors will be spending at least 20% of their total incomes on health care expenses. This is because even though Medicare Parts A and B provide vital coverage, they still leave seniors exposed to significant out-of-pocket costs, including:

- Deductibles
- Coinsurance costs
- Co-pays
- Prescription drugs
- Dental Care
- Long-term services not covered by Medicare

The cost burden is particularly heavy for those at lower income levels and over the age of 85.

The Kaiser Family Foundation found that at least 14% of seniors were already paying at least 14% of their total income for out-of-pocket health care costs in 2013, and that figure has been climbing along with general health care expenses.

Medical expenses more than double when a senior citizen is between 70 and 90, largely due to nursing home costs, according to data from the Federal Reserve Bank of Chicago. The average monthly cost for a semi-private room in a nursing facility is $7,441 according to the "Genworth Cost of Care Survey 2018".

Overall, government pays for only about 65% of senior health care spending. Seniors should expect to shoulder the remaining 35% through private insurance plans such as Medicare Supplement (Medigap) insurance, Medicare Advantage, long-term care insurance - and from personal and family savings and income.

The projections underscore the need for careful advance planning for both health care needs and for generating the income needed to pay for them, experts say.
Planning for health care costs retirement

Retirees and pre-retirees can take the following steps to ensure they are in a position to provide for their health care needs in retirement:

Meet Medicare enrollment deadlines - especially the initial enrollment period deadline, which extends three months before the first day of your 65th birthday month, and 3 months after the end of your 65th birthday month. For example: If your birthday is in June, your initial enrollment period begins on March 1st, and ends on September 30th.

If you miss this initial enrollment period, you may face permanently higher Medicare premiums. If you miss your initial enrollment period, around your 65th birthday, you can still enroll during the annual Medicare Open Enrollment period, between October 15th and December 7th.

Consider additional insurance coverage such as Medigap. This can help protect you from high out-of-pocket deductibles and co-pays, which can amount to thousands of dollars a year. Medigap and Medicare Advantage insurance may cushion the financial blow, for a predictable and affordable premium. But, it's best to apply for this coverage early - as soon as you become eligible.

Plan ahead for long-term care costs. Medicaid only kicks in after you have spent down most of your assets to poverty levels, and only if your income is at the poverty level in your state.

Put money aside regularly for the purpose of generating retirement income.

Take care of your health. Good habits now, such as eating well, exercising regularly and refraining from smoking and excess alcohol consumption, can go a long way to preventing health expenses down the road.

Take advantage of regular check ups and wellness visits, which can help detect health problems while they can still be treated with minor interventions. Early detection can help save both your money and your life.
If you would like help from a professional who can guide you, JenniferLangFinancialServices.com can assist you. Connect directly with a financial professional. You can request a personal strategy session to discuss your needs and goals.